KEYNOTE SPEAKERS
J. Neil Bearden, MBA, PhD
Associate Professor of Decision Sciences, INSEAD Singapore, Co-director, INSEAD Leadership, Programme for Senior Executives, Singapore
Giovanni Buttarelli
European Data Protection Supervisor, Former Secretary General, Italian Data Protection Authority, Brussels, Belgium

Charles Cain, JD
Chief, FCPA Unit, US Securities and Exchange Commission (SEC), Washington, DC, USA
Rachel Cooper, LLB, MSc
Director, Pharmaceuticals & Healthcare Programme, Transparency International UK, Former Director Global Health, Royal College of Obstetricians and Gynaecologists, Former Head, Government Relations, World Vision UK, Former Vice Consul, British Embassy, Copenhagen, Deputy Head of Mission, British Embassy, Bratislava, Deputy High Commissioner, Freetown, London, UK
Abhiroop Gandhi
Trust and Compliance Officer, Verily Life Sciences (an Alphabet company), Former Vice President, Corporate Compliance, Mallinckrodt, San Francisco, CA, USA
Tarek Helou, JD
Assistant Chief, FCPA Unit, Fraud Section, Criminal Division, US Department of Justice, Washington, DC, USA
Ti Hwei How, MBA
Country President, AstraZeneca, President, Singapore Association of Pharmaceutical Industries, Co-chair, Healthcare Committee, European Chamber of Commerce in Singapore (EuroCham), Singapore
Dominique Laymand, Esq.
Executive Vice President, Chief Ethics and Compliance Officer, Ipsen; Honorary President, International Society of Healthcare Ethics and Compliance Professionals (ETHICS), Paris, France
FEATURING A HALF-DAY PRECONFERENCE SESSION ON


Compliance and Ethical Issues in Patient Access and Support Programs and Activities with Patients and Patient Advocacy Organizations
PLENARY SESSIONS


Welcome and Recognition of the Role of Ethics and Compliance

Transparency International Update

Update on the Revised IFPMA Code, the APEC Code and Other Global Codes

The Regulation of Direct Sponsorships in the Asia Pac Region

Asia Pac Hot Compliance Markets Updates: China, Indonesia, Korea, Malaysia and Vietnam

Talk About Ethics is Confused by the Word "Ethics"

Annual Leading Compliance Officer Roundtable

GDPR Privacy Compliance Update

US DOJ and SEC FCPA Enforcement Update

Results of the 2018 Deloitte Asia Pac Life Science Compliance Survey

Annual Asia Pac Anticorruption Roundtable

The Patients' Perspective on Relationships with Pharma and Med Device Companies

Strategies to Resolve Potential Conflicts of Interest

The Emerging Role of Technology Companies in the Life Science Marketplace

The Continued Evolution of Compliance as a Profession
AND MINI SUMMITS


Third Party (Distributor, Vendor, Alliance Partner, Government-related Associations, HCOs, etc.) Management, including Pre-evaluation, Due Diligence, Contracting, Monitoring and Payment

Annual Medical Device Compliance Roundtable

Compliance Innovation

Practical Approaches to Handling Investigations: Pre-investigation Preparations

Chinese Anticorruption and Compliance Best Practices Roundtable

Transparency Reporting Challenges and Approaches: Global Experience and Transparency Reporting in Asia

Practical Approaches to Handling Investigations: The Investigation

Data Privacy Updates: Impact of the GDPR and other Data Security Laws in Asia

Using Data Analytics for Enhanced Compliance Monitoring

Update on Drug Pricing Reductions and Control in the US

The Future of Pharma-Private Insurance Collaborations in Asia Pac

Practical Approaches to Handling Investigations: Gaining Information from Human Sources

Best Practice in HCP/HCO Management

The Role of the Compliance Officer in Cybersecurity

Roundtable on Practical Approaches to Handling Investigations
FEATURED FACULTY
Peter Andres, MA, JD
Special Counsel, Baker McKenzie, Hong Kong

Ann Beasley, JD
Director, Life Sciences Regulatory & Compliance, Navigant Consulting, Inc.; Former Senior Vice President, Chief Compliance Officer, Biogen; Former Co-chair, International Pharmaceutical and Medical Device Compliance Congress, Boston, MA, USA
Uma Bhatt, PhD
Director, Technology Solutions, APAC, IQVIA; Former Senior Manager, Biostatistics and Data Operations, Daiichi Sankyo, Singapore
Brian Caster, JD
Senior Director, Global Compliance Investigations, APAC Region, Pfizer, Tokyo, Japan
Stacy Chai
Partner, Forensic & Integrity Services, EY, Singapore
Praween Chantanakomes, JD
Associate, Baker & McKenzie, Bangkok, Thailand
Nitin Chhatwani, MA, MBA
Global Monitoring Leader and ASEAN Chief Compliance Officer, GE Healthcare, Singapore
Chi Chen, MS, CFE, CISA
Forensic Technology Partner, EY, Shanghai, China
Eugene Chen, Esq.
Partner, Beijing Office, Hogan Lovells International LLP, Shanghai, China
Ken Chia
Principal and Member, Asia Pacific IT & Communications and Global Privacy Steering Committees, Baker & McKenzie, Wong & Leow, Singapore
Kyungsun "Kyle" Choi
Foreign Attorney, Health and Digital Healthcare Practice, Kim & Chang Law Firm
Yoo-Kyung (Karen) Choi, JD, LLM
Japan and Korea Compliance Lead, Pfizer, Seoul, South Korea
Hwee Ping Chua, LLM
Associate Vice President, International Legal & Compliance – Asia Pacific, China & Japan, Merck, Former Regional Counsel, Asia Pacific, Bristol-Myers Squibb, Singapore
Justus Chua
Head of Legal and Compliance, South East Asia and South Korea, Boehringer Ingelheim, Former Regional Counsel, (Developing Markets), Reckitt Benckiser Pharmaceuticals, Singapore
Eddie Chuah
Partner, Dispute Resolution Practice Group, Wong Partners, Kuala Lumpur, Malaysia
Holger Diener, PhD, JD
Managing Director, Association of Voluntary Self Regulation for the Pharmaceutical Industry; Co-Chair of the IFPMA Ethics and Business Integrity Committee, Berlin, Germany
Cahyani Endahayu
Partner, Baker McKenzie, Jakarta, Indonesia
Giuseppe "Pino" Falbo
EAMEA Regional Compliance Head (Russia/CIS, Indian sub-continent, MEA), Shire, Former Regional Compliance Director (Asia and Russia), Alcon Laboratories, Inc., Former Business Practices Officer (Asia, Middle East, Africa, Latin America), Novartis International AG, United Arab Emirates
J. Mark Farrar, CPA, CFE, CFF
Managing Director, Navigant; Former Interim Global Chief Compliance Officer, Beckman Coulter, Atlanta, GA, USA
Chris Fordham
Partner, Forensic and Integrity Services, EY, Hong Kong
Gary F. Giampetruzzi, Esq.
Partner, Paul Hastings, Former Vice President and Assistant General Counsel, Head of Government Investigations, Pfizer Inc., New York, NY, USA
Ronald Goon
Senior Director, Business Practices & Compliance, Johnson & Johnson, Former Regional Regulatory Manager, Covance Asia-Pacific, Singapore
Mohit Grover
Executive Director, Risk Consulting, Deloitte, Former Regional CIO, Astra Zeneca Asia Pacific, Singapore
Casey J. Horton, CFE
Director, Life Sciences Regulatory & Compliance, Navigant Consulting, Inc., Chicago, IL, USA
Amy Huang, MBA
Director, Ethics & Compliance Business Liaise, Eli Lilly and Company, Shanghai
Shinji Iizumi
Compliance Champion, Director, Corporate Planning Office, Ferring Pharmaceuticals, Tokyo, Japan
Vanessa Han Juhn
Head of Compliance, China, Novo Nordisk, Shanghai, China
Sasha Kalb, JD
Vice President Risk and Compliance, American Express Global Business Travel, Former Senior APAC Compliance Counsel, 3M, Former Regional Compliance Counsel, Avon, Hong Kong
Catherine Healy Kanzler, JD
Executive Director, Global Compliance Operations, Compliance Department, Olympus Corporation of the Americas, Center Valley, PA, USA
Jasmine Karimi, LLB, LLM
Senior Director and Counsel, APAC, Illumina, Former President, Hong Kong Corporate Counsel Association, Singapore
Kent Kedl, MA
CEO, Greater China and North Asia, Control Risks, Former Vice President and General Manager, Technomic Asia, Shanghai, China
Richard Kershaw
Partner, Financial Advisory, Deloitte, Shanghai, China
Katsumi Kojima
Member, Code Compliance Committee (APEC Forum Taskforce Leader), Japan Pharmaceutical Manufacturers' Association, Tokyo, Japan
Keith M. Korenchuk, JD, MPH
Partner, Arnold & Porter LLP, Washington, DC, USA
Benjamin Kwak, JD
Vice President, Compliance Officer & Senior Legal Counsel, Asia Pacific, Zimmer Biomet, Singapore
Gareth Lee
Vice President, Legal and Compliance, Asia Pacific, Cardinal Health, Former General Counsel & Head of Compliance, Asia Pacific, Allergan, Former Co-
chair, Asia Pac Pharma Compliance Congress, Singapore
Yunjoh Lee, B.Jur, LL.M
Attorney, Kim & Chang Law Firm
Lei Li, LLM
Partner, Sidley Austin, Former Third Secretary, Ministry of Commerce, People's Republic of China, Beijing, China
Howard Lin
Vice President, Lilly China Ethics & Compliance, Eli Lilly and Company, Singapore
Michael K. Loucks, JD
Partner, Skadden Arps LLP, Former Acting United States Attorney, District of Massachusetts, US Department of Justice, Washington, DC, USA
Albert van Maaren, MsC
Regional Compliance Officer Healthcare APAC, Group Compliance, Merck KGaA, Singapore
Sol Magaz, MBA
Senior Principal, IQVIA, Singapore
Christine Ng
Head, Ethics & Compliance Officer, Greater China, GSK, Shanghai, China
Chrisoula Nikidis
Canadian Head of Compliance and Ethics Solutions, IQVIA, Former Executive Director, Ethics and Compliance, Innovative Medicines Canada, Former Industry Co-Chair Designate, APEC Biopharmaceutical Working Group on Ethics, Ottawa, Canada
Bob Pointer
Learning and Development Specialist, Course Design and Delivery Partner, REL Alliance Singapore, Berry Hill, Gloucestershire, UK
Vivian Robinson, Esq.
Partner, McGuireWoods LLP, Former General Counsel of the UK Serious Fraud Office, Former Head, QEB Hollis Whiteman Chambers, Recorder of the Crown Court and Treasurer of Inner Temple, London, UK
Redentor Romero, JD
Associate Director, Global Third Party Compliance Program, Takeda Pharmaceuticals International, Former Regional Compliance Officer, Teva Pharmaceuticals, Former Regional Legal Counsel, Southeast Asia and Taiwan, AstraZeneca Pharmaceuticals, Singapore
Chris Royal, MBA, CIMA
Vice President, Ethics and Compliance Officer, Asia Pacific and Japan Global Ethics & Compliance, GSK, Singapore
Yee Chung Seck
Partner, Baker & McKenzie (Vietnam) Ltd., Ho Chi Minh City, Vietnam
Carol Shi
Area Compliance Director, Asia and ANZ, Astrazeneca, Singapore
Haiyan Tang, JD, PhD
Partner, Paul Hastings, Former Acting Compliance Regional Director in China, Pfizer, Shanghai, China
Geeta Thakerar
Legal and Compliance Consultancy Professional (Asia Pacific), Former Vice President and Associate General Counsel, Asia Pacific/Japan, GlaxoSmithKline plc, Singapore
Yuet Ming Tham, JD
Partner and Global Head of White Collar Group: Government Litigation & Investigations Group and Head of Asia Pacific Compliance and Investigations Group, Sidley Austin, LLP; Singapore, Hong Kong
John Tsai
Forensic Partner, Fraud Investigation & Dispute Services, EY, Shanghai, China
Mini vandePol, LLB
Attorney and Chair, Global Compliance and Investigations Group, Baker McKenzie, Hong Kong
Emmanuel Vignal
Asia Pacific Managing Partner, Forensic and Integrity Services, EY, Shanghai, China
Jonathan Shun Wah, PCLL
Assistant General Counsel – Greater China & APAC (ex South Asia) Investigations Lead, Pfizer, Hong Kong
Mark Wanda
Executive Director, Anti-Bribery and Anti-Corruption Compliance Interim Head, South East South Asia Oceania Ethics and Compliance, ASTELLAS US LLC, Northbrook, IL, USA
Joyce Wong
Managing Director, Polaris Asia-Pacific, Former General Manager, Eli Lilly Asia Inc., Hong Kong
Angela M. Xenakis, MBA, JD
Partner, Sidley Austin LLP, Singapore
Anh Nguyen Xuan, MBA
Chief Compliance Officer, Vietnam and Indochina, Sanofi Aventis, Ho Chi Minh City, Vietnam
2019 GLOBAL PHARMA COMPLIANCE CONGRESSES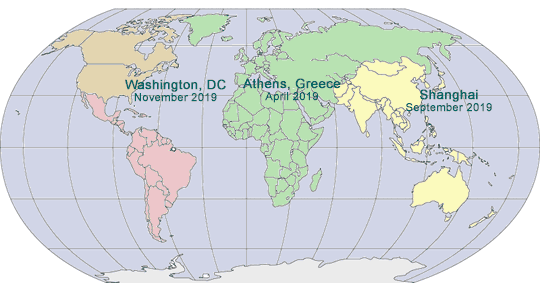 THIRTEENTH INTERNATIONAL PHARMACEUTICAL AND MEDICAL DEVICE COMPLIANCE CONGRESS
Sponsored by International Society of Healthcare Compliance Professionals (ETHICS)
Media Partners: Policy & Medicine Compliance Update and Rx Data News
April 8 – 10, 2019
Grand Hyatt Athens
Athens, Greece
www.InternationalPharmaCongress.com

NINTH ASIA PACIFIC PHARMACEUTICAL AND MEDICAL
DEVICE COMPLIANCE CONGRESS
Sponsored by Asia Pacific Healthcare Industry Compliance Team
Cosponsored by International Society of Healthcare Ethics and Compliance Professionals (ETHICS)
Media Partners: Policy & Medicine Compliance Update
September, 2019
Shanghai, China
www.AsianPharmaCongress.com

TWENTIETH ANNUAL PHARMACEUTICAL AND
MEDICAL DEVICE COMPLIANCE CONGRESS
A Hybrid Conference and Internet Event
Sponsored by Pharmaceutical Compliance Forum
Media Partners: Harvard Health Policy Review, Health Affairs, Policy & Medicine Compliance Update and Rx Data News
November 6 – 8, 2019
Mandarin Oriental
Washington, DC
www.PharmaCongress.com