CO CHAIRS
Masood Ahmed
Vice President, Regional Compliance Officer Asia & JPAC, Sanofi Group, Singapore
Maija Burtmanis, LLB/BSc LLM
Regional Compliance Director, Japan / Asia Pacific, Shire, Former Healthcare CO, Asia Pacific Medical Sciences, Johnson & Johnson, Former Associate GC, Alcon Russia, Former Asia Pacific, Country CO, Novartis SG, Singapore
Campbell Clark, LLB, MJ
Chief Ethics and Compliance Officer, Asia Pacific, Medtronic, Covidien Private Limited, Chair, Legal, Ethics and Compliance Committee, Asia Pacific Medical Technology Association (APACMed), Singapore
Ewa Holker
Legal & Compliance Director (APAC), Ferring Pharmaceuticals, Former Director, Legal & Compliance, Asia Pacific, Zimmer Biomet, Singapore
Maria "Maru" Quindimil, MBA
APAC Ethics and Compliance Lead, UCB Pharma, Former Executive Director, Regional Compliance Officer, Asia Pacific and India, Merck Sharp and Dohme (Asia Ltd.), Shanghai, China
Rhys Tee
Director, Compliance and Privacy, ASPAC, Ortho Clinical Diagnostics, Former Compliance Director, Asia, Abbott Laboratories (Singapore) Pte. Ltd., Former Associate Director, Compliance (APAC), Allergan, Singapore
FEATURED FACULTY

Ted Acosta, Esq.
Americas Vice Chair, Risk Management, Ernst & Young; Former Senior Counsel, Office of Inspector General, United States Department of Health and Human Services, New York, NY, USA and Paris, France
J. Neil Bearden, MBA, PhD
Associate Professor of Decision Sciences, INSEAD Singapore, Co-director, INSEAD Leadership, Programme for Senior Executives, Singapore

Ann Beasley, JD
Director, Navigant Consulting, Former Senior Vice President, Chief Compliance Officer, Biogen, Former Co-chair, International Pharmaceutical \and Medical Device Compliance Congress, Boston, MA, USA
Brian Caster, JD
APAC Regional Compliance Investigations Lead, Pfizer, Tokyo, Japan
Praween Chantanakomes, JD
Associate, Baker & McKenzie, Bangkok, Thailand
Eugene Chen, Esq.
Partner, Beijing Office, Hogan Lovells International LLP, Shanghai, China
Yoo-Kyung (Karen) Choi, JD, LLM
Japan and Korea Compliance Lead, Pfizer, Seoul, South Korea
Justus Chua
Head of Legal and Compliance, South East Asia and South Korea, Boehringer Ingelheim, Former Regional Counsel, (Developing Markets), Reckitt Benckiser Pharmaceuticals, Singapore
Hwa Soo Chung, JD, MPA
Chair, Health Practice Group, Kim and Chang, Seoul, South Korea
Chris Fordham
Managing Partner, Asia Pacific Area, Fraud Investigation and Dispute Services, Ernst & Young, Hong Kong
Ronald Goon
Senior Director, Business Practices & Compliance, Johnson & Johnson, Former Regional Regulatory Manager, Covance Asia-Pacific, Singapore
Jasmine Karimi, LLB
Senior Director and Counsel, APAC, Illumina, Former President, Hong Kong Corporate Counsel Association, Singapore
Kent Kedl, MA
Senior Partner, Control Risks, Former Vice President and General Manager, Technomic Asia, Shanghai, China
Keith M. Korenchuk, JD, MPH
Partner, Arnold & Porter LLP, Washington, DC
Benjamin Kwak, JD
Vice President, Compliance Officer & Senior Legal Counsel, Asia Pacific, Zimmer Biomet, Singapore
Dominique Laymand, Esq.
Executive Vice President, Chief Ethics and Compliance Officer, Ipsen; Honorary President, International Society of Healthcare Ethics and Compliance Professionals (ETHICS), Paris, France
Gareth Lee
Vice President, Legal and Compliance, Asia Pacific, Cardinal Health, Former General Counsel & Head of Compliance, Asia Pacific, Allergan, Former Co-
chair, Asia Pac Pharma Compliance Congress, Singapore
Lei Li, LLM
Partner, Sidley Austin, Former Third Secretary, Ministry of Commerce, People's Republic of China, Beijing, China
Michael K. Loucks, JD
Partner, Skadden Arps LLP, Former Acting United States Attorney, District of Massachusetts, US Department of Justice, Washington, DC
Albert van Maaren, MsC
Regional Compliance Officer Healthcare APAC, Group Compliance, Merck KGaA, Singapore
Chrisoula Nikidis
Canadian Head of Compliance and Ethics Solutions, IQVIA, Former Executive Director, Ethics and Compliance, Innovative Medicines Canada, Former Industry Co-Chair Designate, APEC Biopharmaceutical Working Group on Ethics, Ottawa, Canada
Bob Pointer
Learning and Development Specialist, Course Design and Delivery Partner, REL Alliance Singapore, Berry Hill, Gloucestershire, UK
Vivian Robinson, Esq.
Partner, McGuireWoods LLP, Former General Counsel of the UK Serious Fraud Office, Former Head, QEB Hollis Whiteman Chambers, Recorder of the Crown Court and Treasurer of Inner Temple, London, UK
Redentor Romero, JD
Associate Director, Global Third Party Compliance Program, Takeda Pharmaceuticals International, Former Regional Compliance Officer, Teva Pharmaceuticals, Former Regional Legal Counsel, Southeast Asia and Taiwan, AstraZeneca Pharmaceuticals, Singapore
Carol Shi
Area Compliance Director, Asia and ANZ, Astrazeneca, Singapore
Geeta Thakerar
Legal and Compliance Consultancy Professional (Asia Pacific), Former Vice President and Associate General Counsel, Asia Pacific/Japan, GlaxoSmithKline plc, Singapore
Yuet Ming Tham, JD
Partner and Global Co-Leader White Collar Group: Government Enforcement & Investigations, Sidley Austin LLP, Former Asia Pacific Regional Compliance Director, Pfizer, Former Deputy Public Prosecutor, Singapore, Hong Kong
Emmanuel Vignal
Partner, Fraud Investigation & Dispute Services, Ernst & Young, Shanghai, China
Jonathan Shun Wah, PCLL
Assistant General Counsel – Greater China & APAC (ex South Asia) Investigations Lead, Pfizer, Hong Kong
Joyce Wong
Managing Director, Polaris Asia-Pacific, Former General Manager, Eli Lilly Asia Inc., Hong Kong
Anh Nguyen Xuan, MBA
Chief Compliance Officer, Vietnam and Indochina, Sanofi Aventis, Ho Chi Minh City, Vietnam
2018 GLOBAL PHARMA COMPLIANCE CONGRESSES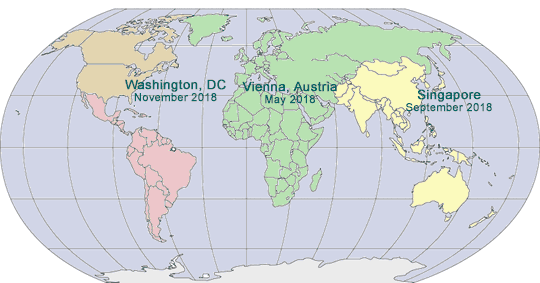 TWELFTH INTERNATIONAL PHARMACEUTICAL AND MEDICAL DEVICE COMPLIANCE CONGRESS
Sponsored by International Society of Healthcare Compliance Professionals (ETHICS)
Media Partners: Life Sciences Compliance Update
May 14 – 16, 2018
Hotel Savoyen
Vienna, Austria
www.InternationalPharmaCongress.com
EIGHTH ASIA PACIFIC PHARMACEUTICAL AND MEDICAL DEVICE COMPLIANCE CONGRESS
Sponsored by Asia Pacific Healthcare Industry Compliance Team
Cosponsored by International Society of Healthcare Ethics and Compliance Professionals (ETHICS)
Media Partners: Life Sciences Compliance Update
September 10 – 12, 2018
Singapore
www.AsianPharmaCongress.com

NINETEENTH ANNUAL PHARMACEUTICAL AND
MEDICAL DEVICE COMPLIANCE CONGRESS
A Hybrid Conference and Internet Event
Sponsored by Pharmaceutical Compliance Forum (PCF)
November 7 – 9, 2018
Mandarin Oriental
Washington, DC
www.PharmaCongress.com